Senior UX Researcher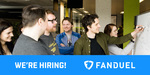 FanDuel
FanDuel Group is a collection of brands operating at the intersection of sports, gaming, tech, and entertainment. Our mission is to give sports fans the chance to win everyday and create experiences they can't wait to share with their friends.

We're not just a company, we're a collective. And we're not just coworkers, we're a community. We're an all-hands-on-deck crew of dreamers, doers, thinkers, makers, builders, breakers, and rebuilders. We value teamwork above all else, and we believe that diversity and inclusiveness are at the core of any good team. Like any good sports team, we've got passion. Passion for building a product our customers will love, passion for being the best in our field, and passion for our own people. With a company that's as committed to its people as it is to its customers, FanDuel Group is a great place to develop yourself and your career.
SUMMARY OF THE ROLE
FanDuel Group has a suite of products serving millions of customers in the US market, in particular our pioneering daily fantasy sports app and, as of 2019, our innovating horse racing product FanDuel Racing. Sports is our game, but fast-paced technology is at the heart of our business. We make products that sports fans love to use and our teams love to build. Working at FanDuel provides the opportunity to impact the lives of millions of sports fans through the products you create, from Hockey to Horse Racing our products cover a variety of sports. You don't need a passion for sports, but you do need a passion for understanding our sport-loving users so you can create great experiences for them. You'll be based in the LA office, working with a close-knit design and product team. 
What we're looking for in you
We're creating industry-leading products that users find engaging and exciting. As a member of the close-knit UX & design team, you'll be responsible for delivering on that. This includes using qualitative & quantitative research techniques to understand our users, championing the customer by being their voice within the company, and working with teams across the organisation to share insights and enable us to create engaging user experiences. Business stakeholders are based in LA, Portland and NYC with our engineering department based out of Portugal. 
Learning
Nothing stands still for very long in our world, so research always has to be moving too. We need you to be fearless; you must be willing to keep learning by diving headfirst into projects, even if you have no prior knowledge of that area of the product and even if that means proving past insights or assumptions wrong. We need you to be self-driven, focused, and can ask and answer meaningful and impactful questions.
Telling the story
How do insights become actions? We believe in the power of storytelling, strong presentation skills and the confidence to speak out in any room where it's necessary. You need to be able to articulate the insights you generate to multidisciplinary teams. Whether it's with presentations, personas, customer experiences maps or one to one conversations your message must be clear and concise.
Great attention to detail
Lots of little things add up to a greater whole. It's essential that you sweat the details, working closely with designers to craft elegant, and compelling experiences. Ultimately we ask that anyone can look at their work and confidently say that they're proud of it. 
Shaping our processes
As well as planning, running and evaluating user testing sessions we want you to have your say in shaping our UX processes. As a part of the UX & Design team, you will have ownership of your research and have the freedom to experiment and try new techniques and technologies, while critiquing our current ones. We are on a mission to continuously improve the delivery and efficiency of our research, and we want you to be part of that journey.
Bonus points: previous experience in real money gaming products 
All FanDuel Group products are real money gaming, so you must understand the challenges and opportunities that this presents, including the regulatory landscape. If you have experience working on fun and engaging products that are regulated, trustworthy and secure then that's going to be a major plus.
What to include
Show us what you're good at. Include work you think best showcases your skillset.

Have any case studies that you think will help? Include those too.
What you get in return
We're serious about career development at FanDuel. All our managers are trained with a focus on continuous development and a drive to help you reach your potential. Your manager will help you use our researcher-specific career framework to progress and grow over time, whether you see your future as an individual contributor or a manager.  You'll set development goals which your manager and our Talent team can support you to achieve through advice and a training budget.
Competitive compensation is just the beginning. As part of our team, you can expect:
An exciting and fun environment committed to driving real growth
Opportunities to build really cool products that fans love
Mentorship and professional development resources to help you refine your game
Flexible vacation allowance to let you refuel
Hall of Fame benefit programs and platforms
There's more, but we don't want to go on and on!
FanDuel is an equal opportunities employer. Diversity and inclusion in FanDuel means that we respect and value everyone as individuals. We don't tolerate bias, judgment or harassment. Our focus is on developing employees so that they reach their full potential.
Apply for this job
Tell a friend