Product UX/UI Designer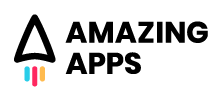 Amazing Apps
Participate in projects at an IT product company, where your knowledge and experience will be appreciated
Here at Amazing Apps we create mobile applications for the Health&Fitness category which are currently rated as the world's top 3 in terms of sales revenue
Grow with us:
3+ years on the global market
250+ professionals (over the past year we have grown 2 times )
10+ apps
90M+ downloads
Our applications are sold all over the world with a focus on the USA, Latin America, Europe, and we are actively entering the Asian markets
Be part of results-driven projects:
Our application — Yoga-Go is in top 3 in its subcategory
50 million people installed our apps in 2020, which is 4.4 times higher than in 2019
We are currently looking for a Product Web Designer.
Challenges you'll meet:
Design and build web-onboarding
Create & optimize custom landing pages for a range of marketing activities
Work with technical requirements
Maintain, update and improve the existing library of design components
About you:
2+ year of experience in web-design with a presentable portfolio
Excellent knowledge of Figma
Basic knowledge of Adobe Photoshop, Adobe Illustrator
Experience in creation of icons, simple illustrations
Attention to detail, multitasking, generation of ideas
For your success we offer:
Comfortable working conditions
・Hybrid format for the time of the pandemic. You can choose a place where it is more convenient to work.
・We have launched a corporate transfer that will bring you from home to space and back
・Flexible start: the day can start from 8:00 to 11:00, focusing on personal preferences and team meetings
・Free lunches: you can make a menu based on personal preferences
・20 business days of compensated day-offs
Well-being
・You will have an opportunity to use our mobile applications for free (yoga, running, fitness)
・Health insurance from the first month of cooperation
・Yoga-time with personal coach
・Individual budget for sports / equipment purchase
・Paid sick leaves
Growth and development
・Individual budget on external training and courses, meetups and seminars
・Online and offline corporate library
・Individual online English lessons
・Team of skilled professionals that share knowledge and support each other
Check out some of our products:
Yoga Go — bit.ly/appleYogaGo / bit.ly/androidYogaGo
Runiac — bit.ly/appleRunniac / bit.ly/androidRunniac
Muscle Booster — bit.ly/appleMB / bit.ly/androidMBapp


In our team, you'll find an opportunity to develop and implement your ideas, as well as to make the world a better place.
Apply for this job