Senior Product Designer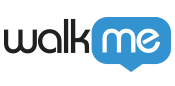 WalkMe
It's not that common for a
product designer
to have the opportunity to start and own a new innovative product,  let alone a product in a company that defines itself as a product-led initiative, in an industry-leading company, trail-blazing forward. 
As WalkMe's New Venture's Lead Product UX/UI you will have a rare opportunity for design, from the ground-up a cutting-edge self-service product from scratch, while acting as a pivotal piece of the new venture's founding team.
Do you get excited by moving products from zero to one, creating plans and executing them? 
Are you deeply moved by creating beautiful digital engagement tools for people, serving them gracefully while helping them do their jobs and making their lives simpler? 
Are you looking to build beautiful, sleek and efficient product software machines? 
If you don't compromise, and are looking to spend your days surrounded by a team of pioneers committed to change, innovation and disruption, we should talk. 
We are looking for a grade-A professional, visionary, and innovator with an X-factor.
Passion, commitment, opinion, vision, experience and execution are non-negotiable.
What will you actually be doing?
Work closely with WalkMe New Venture head of product to define, design and deliver amazing products.
Collaborate with engineers, testing to define features and functionality, with other designers for feedback and critique, and with product analysts and user researchers to evaluate the impact of your work.
Design interactions for new features, come up with eye-blowing, beautiful, elegant designs.
Create user journeys and product flows.
Define users' needs, motivation and pain points, based on both qualitative and quantitative inputs.
Create Wireframes, from rough sketches to rich prototypes.
Conduct a full design cycle from collecting inspiration through creating a pixel-perfect UI for all states and scenarios and deliver to development. 
Be customer obsessed, put yourself in the mindset of WalkMe users leveraging user research to better understand core and target users. 
Conduct usability tests to help inform design improvements. 
Stay up to date with industry trends to keep ahead of competitors.
What should you bring to the table?
At least 3 years of experience in UX and UI design in product teams of SaaS platforms. 
Passion for design!
Experience creating innovative digital interface design solutions for mobile, web, and/or desktop applications.
Proficient in fundamental visual & interaction design principles.
Understanding the product lifecycle from research through prototyping to design and usability testing.
Team player who knows how to collaborate and brainstorm.
Apply for this job
Tell a friend