Senior Product Designer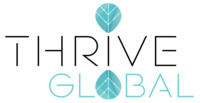 Thrive Global
Thrive Global is changing the way people live through our behavior change platform and apps used to impact individual and organizational well-being and productivity. The marriage of data and analytics, our best-in-class content and science-backed behavior change IP will help people go from knowing what to do to actually doing it, enabling millions of consumers to begin the Thrive behavior change journey. As a Senior Product Designer, you will work with a cross-functional team to define and build products that better the lives of our customers and drive business growth.
How You'll Contribute
Collaborate with Design, Product, and Engineering teams to drive design vision and strategy
Partner cross-functionally with product and engineering leadership to represent the design team, lead design initiatives, and provide feedback in planning and product channels
Partner with engineering to ensure that our implementation and user experience is flawless
Work with designers across product teams and lead broad, organizational-wide initiatives, such as improving Thrive Global's design system and design practices
Help guide, improve, and implement design and feedback processes
Solicit feedback from designers and product partners within and beyond your product team
Be an active mentor for other designers, and help lead critique, design reviews, quarterly planning, and sprint planning
Recruit and interview designers, and actively improve our inclusive design hiring process
Desired Skills
5+ years of extensive experience in a leading individual contributor role, on a product design team for desktop and mobile
An outstanding portfolio, showcasing a foundation in interaction design, visual design, and idea generation
Ability to deliver polished designs and coherent visual systems
Experience working and collaborating with diverse teams in a dynamic, rapid growth environment
Extensive experience closely partnering with product managers to develop the strategy and rationale for features
Extensive experience with prototyping as a means to explore and convey design solutions
Excellent written, verbal, and visual communication skills
What We Offer
A mission-driven company that's truly making a difference in the lives of people around the world

Ability to develop within the company and shape our growth strategy
Human-centric culture with a range of wellness perks and benefits
Competitive compensation package
Medical, vision and dental coverage + 401k program with company match
Generous paid time-off programs
OUR MISSION
Thrive Global's mission is to end the stress and burnout epidemic by offering companies and individuals sustainable, science-based solutions to enhance well-being, performance, and purpose, and create a healthier relationship with technology. Recent science has shown that the pervasive belief that burnout is the price we must pay for success is a delusion. We know, instead, that when we prioritize our well-being, our decision-making, creativity, and productivity improve dramatically. Thrive Global is committed to accelerating the culture shift that allows people to reclaim their lives and move from merely surviving to thriving.
Apply for this job
Tell a friend