Senior Product Designer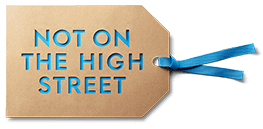 Notonthehighstreet
We are notonthehighstreet. 
We're home to 5,000 phenomenal small creative businesses that we are proud to call our Partners.  But, now more than ever, this community needs our support.  So we're doing all we can to shine a light on these dynamic entrepreneurs, waving the flag for small businesses and generally championing their socks off.
On top of our brilliant Partners, products and customers (not to mention our incredible team who have been busy beavering away from home since March), the last 12 months has seen  great progress with our tech platform and customer experience. We are now looking to build on this momentum to drive our business to the next level. And that's where you come in.
The role:
We are looking for a brilliant Senior
Product Designer
to join our multidisciplinary team and help us create intuitive experiences that delight our users.
You will have the customer front of mind and you love insights, data and research. You're happy to work as part of a wider team but also relish taking ownership of projects. You'll have experience in delivering quality designs – from concept to execution, across all platforms with high level attention to detail. Highly organised, you're able to juggle multiple projects and have the ability to work to given deadlines. You're a good communicator who's able to articulate ideas and concepts clearly.
Reporting to the Product Design Director you will play an important role within the Product Group and be part of a wide range of projects across all digital platforms.
What you'll be doing
Designing usable, beautiful and enjoyable experiences for our users that represents our brand across all platforms
Taking ownership of key challenges, understanding what is needed to improve customers' journeys across their whole eCommerce experience
Work collaboratively with a cross-functional team that includes engineers, product owners and other designers, to ensure a consistent, integrated brand and user experience
Rapid design concepts for exploration & validation Partnering with Creative, product owners and engineers to oversee the UX of a product from conception to launch
A vocal, active member of the team to ensure we are constantly raising our standard of work
Building strong and aligned relationships with commercial, engineering, creative, research and insight teams
Championing UX best practices throughout the business Manage and mentor a team of UX designers
Some key skills and experience you'll need...
 An impressive portfolio that shows off your process and design skills
Strong experience designing for native apps, mobile web and desktop from initial concepts to high fidelity visual design and interactions
Strong understanding of user centered design and usability principles
The ability to refine other people's ideas and come up with new ones to create a highly designed visual experience
Ability to assess and interpret business and user needs (e.g. business goals and requirements, product roadmap, and end user research
Deep understanding and experience of design thinking, product discovery, UX research methodologies, and the full end-to-end design process
Extensive experience using a variety of design and prototyping tools such as Sketch, Zeplin and Axure
Understanding of HTML/CSS and other front-end web technologies considered a plus Self-learning, able to learn new tools quickly and work in a fast evolving environment
Ability to think at a high level about product - not only 'how it should look' but 'how it should work'
Diversity and Inclusion
Everyone's welcome at notonthehighstreet – whoever they are, wherever their background. 
As part of your application you'll be asked to complete a demographic survey to help us learn more about who wants to work with us. It's completely optional (but really appreciated) and it's 100% anonymous. We'll only use the information to help us figure out how to make our team even more inclusive and attract more brilliant people to join us, with the help of our cross-team Diversity Champions to drive progress.
Apply to join #teamnoths
We'd love to hear more about you, your experience and why you'd like to join our team.
For now, our recruitment and induction processes are fully remote, taking advantage of the wonders of modern-day technology. If you are successful in your initial application we'll explain more about next steps, as this can vary slightly from role to role. Good luck!
Apply for this job