Senior Product UX Designer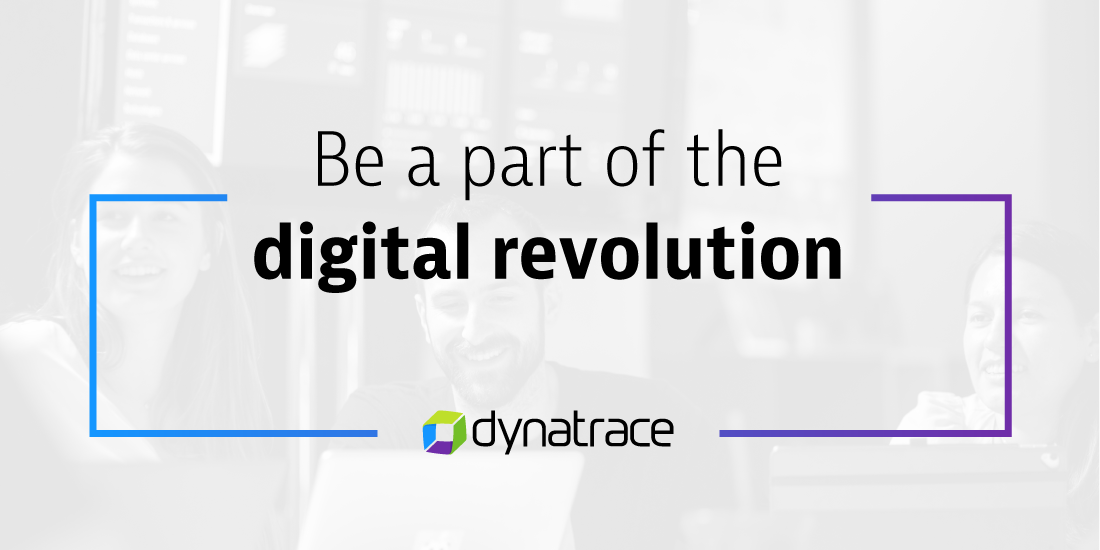 Dynatrace
User Experience | Research | Design | Prototype | Technology | Complexity 
Do you love to solve complex design problems? Are you excited about building extraordinary UX? Are you looking for teammates who appreciate open communication and face challenges together? 
Dynatrace is a global leader in Software Intelligence, because the world needs software to work perfectly. Our innovative SaaS product helps customers to get a self-driving IT. Due to our high quality standards and cutting-edge technologies we are proud to convince customers like H&M, Delta Airlines, SAP, United Health Care, JP Morgan, and many others. 
Our company was founded in Linz (Austria) 15 years ago, and currently counts more than 2.200 employees across several locations worldwide. In 2019 we opened a Lab in Graz as well. Our value creation teams in Graz focus on Digital Business, which is a combination of platforms, tools, and services to deliver an unrivaled, world-class customer lifecycle experience. With such digital services we get deep insights into the customer journey enabling us to offer proactive support, identify new business opportunities, drive operational excellence, and ultimately ensure customer success. 
Your work will mainly focus on improving the end-to-end UX of some of our systems including licensing provisioning and management, identity and access management, as well as of a brand-new customer experience portal. In close collaboration with product managers, software engineers, and other global designers you will strive for creating consistent and compelling experiences across those areas. 
Your role
take ownership of the complete UX lifecycle for software licensing, identity & access, and CX portal
plan and perform UX research, collect and analyze data, and translate insights to inform your designs
continuously partner with product managers, engineers, and other global experience design teams
be as hands-on as needed to visualize and prototype design solutions (e.g. with IA, user flows, wireframes, mockups, UI, etc.)
Your profile
you have solid experience and a demonstrated track record of designing, shipping, and iterating on digital software products and systems — not just websites or campaigns. Big bonus if matured working on Enterprise Software as well 
you are fully comfortable and especially keen to work through business & design problems from beginning to end —  e.g. planning and doing UX research, translating insights and data into concepts that form new products and features, designing detailed solutions to make things real, and continuously learning from and iterating upon what you ship 
you got plenty of experience successfully collaborating with multidisciplinary teams of product managers, engineers, designers, and other business stakeholders 
You will love and rock this job if
you master both fine art & skills to effectively communicate and present your POVs and works across the board — you'll use this daily to help people across the company understand the rationale behind your proposals, and the complex nuances of design problems 
you are not afraid of collaborating with geographically dispersed teams. While you'll be part of an amazing global design team, you'll be the first local UX design practitioner in Graz 
you are a motivated self-starter — with a strong growth mindset, desire to humanize things, willing to own problems, with a balanced sense of optimism and humility, and at comfort with ambiguity 
When applying for this role please include a link to a brief portfolio showing a few selected commercial projects you worked on in the past — clearly outlining the problems and/or business opportunities taken on with your work, as well as your role and specific responsibilities as part of a multidisciplinary team. That should mostly touch on the process applied to find solutions and overcome challenges, rather than focusing just on visual polish and final deliverables.
Join us now! 
Please apply with both your resume and portfolio in English.
Due to legal reasons we are obliged to disclose the minimum salary according to the collective agreement for this position, which is EUR 50,000 gross per year (based on full-time). We offer a higher salary in line with qualifications and experience.
#LI-DNI
Please consider, when submitting your CV, that due to the current health crisis related to COVID-19, in our Labs in Austria, we are currently limited in extending offers to residents outside the EU. We are keeping the situation under review and would adjust our position, should the restrictive measures be removed.
Apply for this job
Tell a friend