Product Designer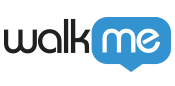 WalkMe
WalkMe is in search of a passionate and creative Senior Product Designer (UI/UX) to join our expanding Design team in Tel Aviv!
As a Product Designer at WalkMe, you'll be responsible for what you design from start to finish: brainstorming solutions, iterating on visuals and interactions. you will work with the product team to design WalkMe's products and services. You will have an active role in researching, prototyping and designing WalkMe's core products. Elevate the product visually and functionally. 
WalkMe pioneered the Digital Adoption Platform (DAP) to transform the user experience in today's overwhelming digital world. Using artificial intelligence, analytics, engagement, guidance and automation, WalkMe assists users to complete tasks easily within any enterprise software, mobile application or website.
What will you actually be doing?
 Work with Product Managers to define, design and deliver amazing products.
Collaborate with engineers to define features and functionality, with other designers for feedback and critique, and with data scientists and user researchers to evaluate the impact of your work.
Design interactions for new features, applying existing design patterns and creating new ones, across our platforms.
Create user journeys and product flows.
Define users' needs, motivation and pain points.
Create Wireframes, from rough sketches to rich prototypes.
Conduct a full design cycle from collecting inspiration through creating a pixel-perfect UI for all states and scenarios and deliver to development. 
Collaborate with product and engineering teams locally and overseas.
Put yourself in the mindset of WalkMe users leveraging user research to better understand core and target users. 
Conduct usability tests to help inform design improvements. 
Stay up to date with industry trends to keep ahead of competitors.
What should you bring to the table?
At least 3 years of experience in UX and UI design in product teams. 
Passion for design!
Experience creating innovative digital interface design solutions for mobile, web, and/or desktop applications.
Proficient in fundamental visual & interaction design principles.
Understanding the product lifecycle from research through prototyping to design and usability testing.
Team player who knows how to collaborate and brainstorm.
Why WalkMe?
WalkMe was recently ranked by Dun & Bradstreet as 1 of the TOP 20 companies to work for in Israel, and was recently recognized by Deloitte as the 6th fastest growing Software company in the world, which means our employees have the opportunity to grow with us. We are changing humanity by bridging the gap between humans and technology. We are passionate individuals who drive for excellence, who live and breathe innovation. We raise our own leaders and encourage employees in all ranks to take initiative and own their work, innovate and take an active role in the company's success!
CHECK OUT OUR PLACE IN THE BEST COMPANIES TO WORK FOR:
CHECK OUT OUR OFFICE CULTURE:
Apply for this job
Tell a friend