Senior UX Researcher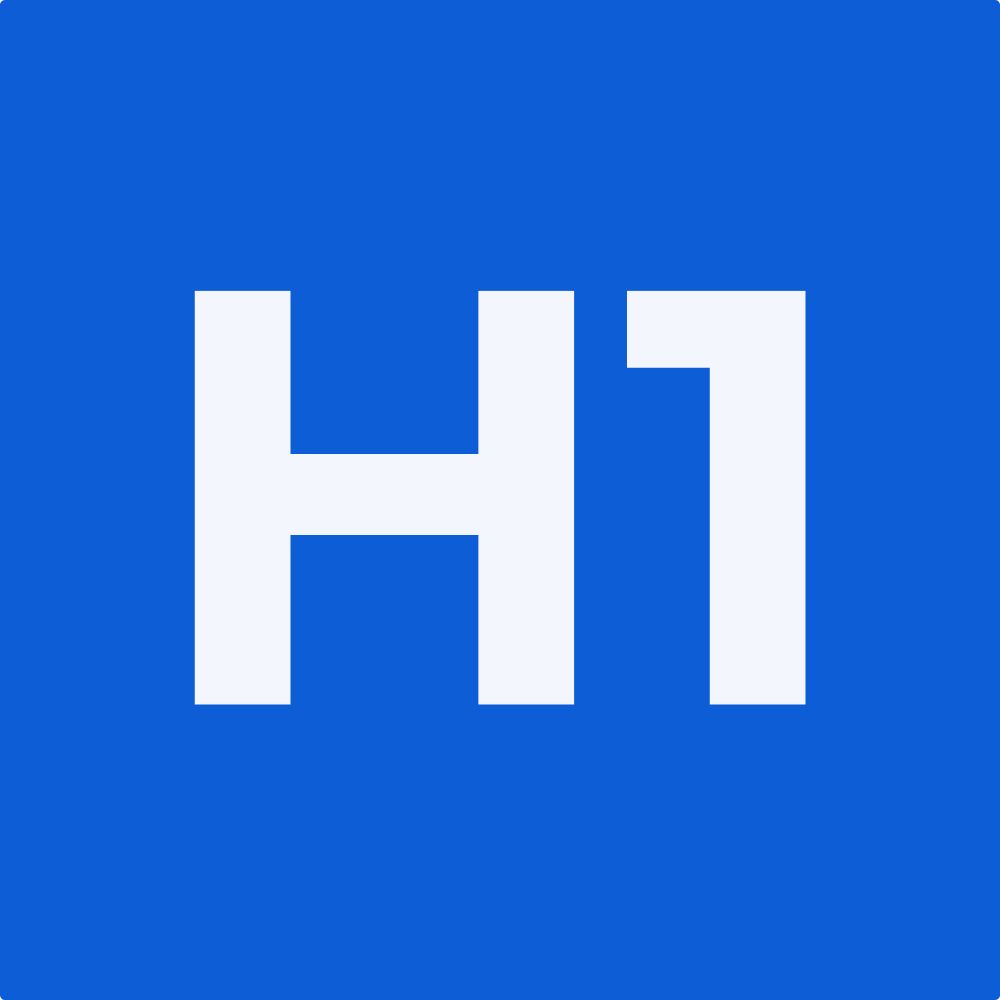 H1
H1 Insights
H1 is creating a healthier future by delivering a platform that connects stakeholders across the healthcare ecosystem for greater collaboration and discovery. Having just raised $57M Series B funding, the H1 team is growing quickly!
DESIGN AT H1
Designers are crucial to the success of H1. They participate in strategic decisions/solutions, lead the full lifecycle of their designs across all platforms, collaborate with product managers on strategy, participate in research to discover solutions and validate designs, and consult with engineering to make their ideas come to life. Our team is small and nimble, yet growing fast with the backing of executive leadership. A "seat at the table" isn't a question at H1, it's implied in the organizational structure. Team leads from design, product, and tech drive product pods forward to achieve product goals and milestones. 
THE ROLE
As a Senior UX Researcher, you will lead the evolution of H1 by
creating research roadmaps, implementing foundational research programs, connecting business strategy and customer insights, and, of course, creating exceptional products that our customers will love. You will also work closely with our Product & Design teams to amplify our customer centricity and evolve the business & product strategy for H1 as a whole.
While at H1, you will...
Develop a strategic research roadmap to identify and answer the most critical questions about our customers in partnership with product and design teams and cross-functional stakeholders (ranging from generative strategic research to more tactical evaluative research)
Synthesize/analyze data and findings, developing actionable insights, outputs, and frameworks for both short-term and long-term research needs.
Design compelling and digestible deliverables focused on visually telling the story and highlighting important insights for longevity.
Evaluate and experiment with new and emerging methods and technologies, and identify if and how to incorporate them into the team's toolkit.
Coach cross-functional partners as they craft their approach to the challenge at hand. Optimize for helping them deliver credible, actionable insights which drive confident, bold, customer-focused business & design decisions.
Work with our product & design teams to identify opportunities for teams to partner on research, and to shape H1's research practices from the ground up.
Collaborate closely with other research and user engagement functions (Data Science, Marketing, Customer Success, and Sales) to identify leading-edge customer behaviors, attitudes, expectations, and values, and uncover new experience opportunities.
About You
You have 4+ years of professional experience leading user research projects with demonstrated impact (this isn't your first rodeo).
You have practical experience with a wide variety of qualitative and quantitative research methods, techniques for synthesis, and testing tools. You are comfortable with survey design and analysis.
You have demonstrated ability to make smart decisions about how and when to apply research methods based on a solid understanding of their benefits and tradeoffs.
You are self-aware and polished communicator who can collaborate effectively with peers, participants, and team leads.
You embrace and thrive in a high-paced, changing, potentially ambiguous, dynamic culture.
You are an independent, proactive problem-solver who can adapt to changing priorities while staying in sync with multiple stakeholders.
You have the ability to collaborate with other researchers, designers, product managers, product marketers, and engineers.
You are open to trying new ways of working and teaching the broader organization how to integrate research into our daily activities.
You have excellent communication, presentation, interpersonal and analytical skills; the ability to communicate complex concepts clearly and persuasively across different audiences and varying levels of the organization.
You have an eagerness to continually learn, grow and improve the craft of research.
You are genuine in your empathy for doctors, and those whom we serve in the medical field and a deep desire to improve their lives.
Bonus: You have healthcare industry experience and understand nuances of B2B and regulated industries.
Bonus: Strong quantitative data analysis chops.
Benefits & Perks
Health insurance (medical and dental)
Unlimited vacation/paid time off
Flexible work hours Paid family leave
Work-from-anywhere flexibility
Full computer setup
Employee stock option plan
Founded in 2017, H1 is a global healthcare technology company that brings data-driven insights to various players in the pharmaceutical industry. We use product and design to help our users make comprehensive and strategic decisions. We believe in taking risks and challenging the status quo by continuously innovating and improving. Our team is made up of passionate engineers, scientists, designers, and more that work together to make the impossible, possible. Headquartered in New York City, with offices in India (and soon-to-be EU and APAC offices), H1 touts a global workforce and offers flexible, remote work arrangements.
Apply for this job