Senior Product UX Designer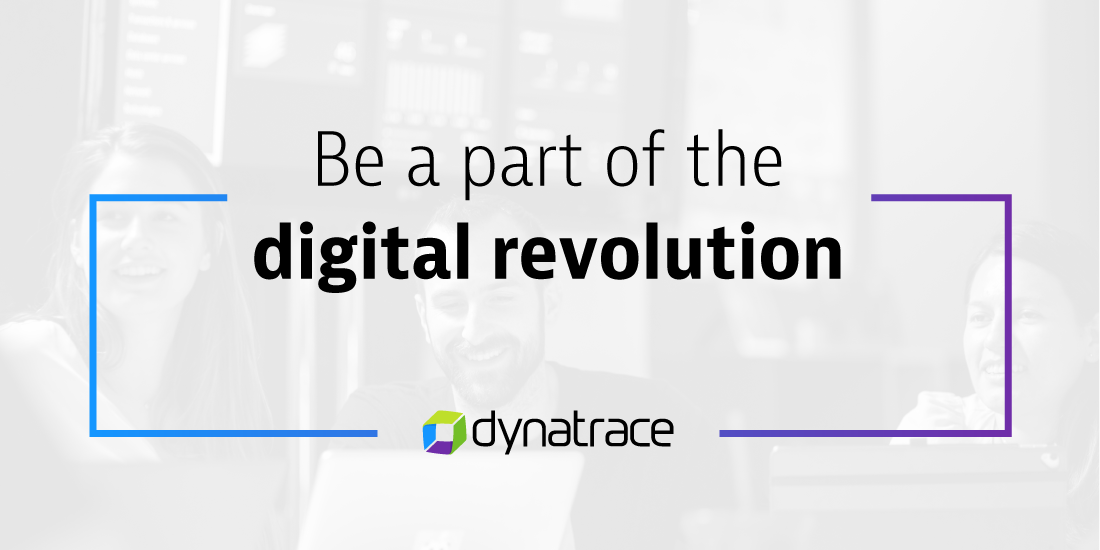 Dynatrace
User Experience | Research | Product Design | Technology | Complexity 
Do you love to solve complex design problems? Are you excited about building extraordinary customer journeys? Are you looking for teammates who appreciate open communication and face challenges together?
Dynatrace is a global leader in Software Intelligence — because the world needs software to work perfectly! Our innovative SaaS product helps customers get a self-driving IT. Due to our high quality standards and cutting-edge technologies we are proud to serve companies like H&M, Delta Airlines, SAP, United Health Care, JP Morgan, and many others!
As an experienced Product Experience Designer you will join a global team of about 30 designers & researchers sitting across our R&D labs in Austria, Poland, Spain, and the United States.
The Core Platform is the heart of Dynatrace and serves multiple product purposes such as storing and analyzing observability data as well as frameworks that are used to build the different Dynatrace modules. The entire product is built on the Platform and relies on it. Hyperscale, lightning performance and delivery are key to the aspect you will deliver. 
Working in close collaboration with product managers, software engineers, and other designers, you will focus on improving the end-to-end UX of core capabilities like Dashboarding, our Data Explorer or Log analytics. Creating accessible, scalable, flexible components and patterns for our design system is also a core part of the Platform team.
Your role
Own and iteratively improve the product UX of end-to-end journeys for specific target audiences within our Platform solution.
Be as hands-on as needed to clearly visualize, prototype, test, and measure design solutions — e.g. with information architecture, user flows, wireframes, mockups... but also surveys, user testing, usability heuristics, user-centered metrics, etc.
Plan and perform all needed research (on users and the competitive landscape), building insights from both qualitative & quantitative data in order to inform your proposed designs.
Act as a customer advocate while continuously partnering with product managers, experience leads, engineers, and other design practitioners.
Your profile
You have solid experience and a demonstrated track record of designing, shipping, and iterating on complex digital software products and systems — definitely not just websites or campaigns. Even better if matured working also on B2B Enterprise software.
You got plenty of experience successfully collaborating with multidisciplinary teams of product managers, engineers, designers, and other business stakeholders. Most preferably at a software product company.
You are fully comfortable working on business+technical+human challenges from start to end — e.g. planning and doing UX research, collecting and translating insights and data into concepts that form new products & features, designing detailed solutions to make things real, and continuously learning from and iterating upon what you ship.
You boost strong communication and cross-functional collaboration skills, in English.
You will love his job if
You can drive projects with a great sense of ownership, autonomy, collaboration, proactivity, and optimism.
You thrive and deeply enjoy working with multidisciplinary teams, and are at comfort with ambiguity.
You are comfortable with collaborating with geographically dispersed teams.
You are keen to continuously improve your skills and grow within your craft.
When applying for this role please include a link to a brief portfolio showing a few selected commercial projects you worked on in the past — clearly outlining the problems and/or business opportunities taken on with your work, as well as your role and specific responsibilities as part of a multidisciplinary team. That should mostly touch on the process applied to find solutions and overcome challenges, rather than focusing just on visual polish and final deliverables.
Please kindly apply with both your resume and portfolio in English.
A cover letter would also be highly appreciated.
Join us now!
Due to legal reasons we are obliged to disclose the minimum salary for this position, which is EUR 50,000 gross per year (based on full-time). We offer a higher salary in line with qualifications and experience.
www.dynatrace.com
Please consider, when submitting your CV, that due to the current health crisis related to COVID-19, in our Labs in Austria, we are currently limited in extending offers to residents outside the EU. We are keeping the situation under review and would adjust our position, should the restrictive measures be removed.
Apply for this job
Tell a friend