Senior UX/UI Designer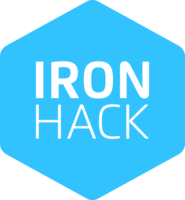 Ironhack
#About Ironhack
Ironhack is an education startup that was founded to disrupt the way tech education works! 
Doesn't it seem odd that we've been learning the same way since the Industrial Revolution? Virtually all industries are pushing the limits on how to do things faster, better, and more efficiently. Yet, for the most part, people feel stuck on a 4+ year (and usually quite expensive) path that often results in an unfulfilling career path.
We empower students to create a new path - one that leads to meaningful careers in software development, product design or data analytics in a fraction of the time and cost of traditional education. 
Our higher purpose is to transform the education space to be unapologetically outcomes-driven. Whether students are looking to change careers, get a promotion, skip University, or start their own company, we work tirelessly every day to make sure this path is as quick, immersive, and accessible as possible. Hearing these success stories is what gets us out of bed each day, excited to come to work :) 
It's with this mindset that we've become one of the key global players in bridging the digital skills gap, serving both those looking to get into tech, as well as the companies hungry for tech talent. 
Quick facts:
●  
Founded in 2013 by Wharton and Harvard grads
●  
Operations in Miami, Madrid, Barcelona, Paris, Mexico City, Lisbon, Amsterdam, Sao Paulo and Berlin
●  
100% YoY Growth (help us to keep it going!)
●  
Graduated over 6500 students 
●  
100+ global team members 
●  
Venture capital backed
We're looking for a Senior
UX/UI Design
er to help us create the best educational experience for students. At Ironhack we have a set of in-house and custom-built digital tools, you'll play a critical role to ensure we have the best user experience for both students and staff-facing tools.
We are looking for someone that will collaborate with users, stakeholders, product managers, and developers to understand business requirements, research user needs & pain points, and convert them into beautifully designed experiences.
You'll join the Engineering squad, right now we are a team of 4 developers and 1 PM (the previous
Product Designer
of the team), and the team is growing a lot year to year.
You'll report to the Product Lead, who will make sure you have clear objectives and a career plan to continue growing in the company (and outside).
You'll be key to the growth of the design team in the future.
You'll work closely with the PM of Engineering, researching, designing, and testing features and products for various user types (website, students, teachers, and Ironhack employees), even road mapping the future priorities for the Engineering team.
What you'll do?
In the Engineering Squad, we work mainly on three product lines:
- Prestudent (everything related to converting interested users into students, mainly website CRO)
- Student (everything related to the student experience, their onboarding, the tools they use to learn, to find a job, etc...)
- Internal Tools (the tools used by teachers and staff to provide the best educational experience to our students)
Since we are a growing team, you'll be the main designer on the three product lines (depending on company priorities).
You'll be onboarded to Ironhack; you've had time to get to know your colleagues, set up everything, and familiarize yourself with our rituals and ways of working. You'll see how we are currently running discovery, the state of our Design Systems and Products. You'll start to learn about the pain points our users are having or the areas for growth that we have. You'll have completed some small projects, which will be already in production.
You'll be a key part of the team, you'll know all of our rituals, you'll start setting up best practices and new processes for the team.
You'll know the insides of the design of our Products, you'll be the owner of our Design Systems, you'll be working on them daily while designing also the most impactful features.
You'll keep running discovery, owning the Design Systems, and improving our processes.
You'll probably have designed one or two new products for some of our Product Lines, and have improved the design of almost all of them.
You'll start seeing where do we need more resources and you'll start planning how to grow the Design team inside Ironhack. You may have been joined by other designers at this point also!
- Research the user needs and improve the user experience of all our products
- Translate
UX research
insights and quantitative data into feature concepts ready to be tested with users on wireframes and interactive -prototypes
- Design and test user flows, wireframes, and interactive prototypes
- Be the user advocate while keeping in mind the business goals and technical constraints
- List the technical, business, and designs requirements with product managers and developers
- Build and maintain our Design Systems (right now: Website and Student Portal)
- Stay current with trends in tech, education and design.
- We are looking for a Senior UX/UI Designer, we'll expect 5+ years working on UX/UI Design (we are not looking for Junior Designers at this time)
- You have autonomy and leadership in user experience, including user research, information architecture, usability testing, and visual and - interaction design.
- Passion for education and digital products
- The ability to define key research questions and objectives, identify appropriate methods, executing end-to-end projects, and synthesizing findings
- Comfort with conducting survey research, survey design, sampling, and analysis
- Practical experience with 1-1 interviews, UI design, and usability testing
- You are pragmatic and able to design in a dynamic and fast-moving environment autonomously
- DRY (Don't Repeat Yourself) mentality, experience working with reusable components and Design Systems
- Great communication skills & team player; willingness to collaborate closely with our team of developers
- Excellent communication skills in English
- Can-do attitude and a good sense of humor
- Growth mindset and an eye towards continuous improvement
- We use Figma for most of the design process, any experience with it will be appreciated.
- Although the offer is remote-friendly, for administrative purposes, you'll need to be based in one of these countries: Spain, USA, France, Netherlands, Portugal, Germany, Brazil or Mexico.
#Perks
●  
Flexible work environment
●  100% Employer-paid healthcare (for US + LATAM full-time employees)
●  
Tons of amazing events with our students and community of instructors 
●  
Learn to code, design, or analyze data: enroll in our part-time courses for free!
Apply for this job
Tell a friend