Product Designer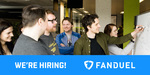 FanDuel
FanDuel Group is a world-class team of brands and products all built with one goal in mind — to give fans new and innovative ways to interact with their favourite games, sports, teams, and leagues. That's no easy task, which is why we're so dedicated to building a winning team. And make no mistake, we are here to win, but we believe in winning right. That means we'll never compromise when it comes to looking out for our teammates. From our many opportunities for professional development to our generous insurance and paid leave policies, we're committed to making sure our employees get as much out of FanDuel as we ask them to give.
FanDuel Group is based in New York, with offices in California, New Jersey, Florida, Oregon and Scotland. Our brands include:
FanDuel — A game-changing real-money fantasy sports app
FanDuel Sportsbook — America's #1 sports betting app
TVG — The best-in-class horse racing TV/media network and betting platform
FanDuel Racing — A horse racing app built for the average sports fan
FanDuel Casino & Betfair Casino — Fan-favorite online casino apps
FOXBet — A world-class betting platform and affiliate of FanDuel Group
PokerStars — The premier online poker product and affiliate of FanDuel Group
We're looking for an experienced product designer to join our UX & Design team in Edinburgh or Glasgow, Scotland, working on our design system.
What you'll do
You'll be part of the team that owns and manages Formation the FanDuel Design System, ensuring that it is fit for purpose and delivering value to the company. Working closely with Product Designers, UX Writers and Engineers to build on our component library and to create guidelines and processes that ensure we are designing and building consistent experiences across all our products.
You'll work with UX & Design team members from across FanDuel's products to keep the design system up to date, creating and updating documentation and library components. Supporting the usage of the design system in their products by giving clear feedback on conventions and patterns.
You'll work in Figma to build and maintain core design system libraries, and support the wider UX & Design team's product specific libraries.
You'll spend time supporting the UX & Design team in best practices within common tools like Figma. Providing guidance on how to build components, how to manage projects and files according to our conventions, and how to get the most out of Figma's features.
You'll work on projects with a lot of self-direction, or lead smaller projects. You'll take on these projects with guidance and help, and be responsible for the design outcomes. The UX & Design team collaborate with product managers, engineers, commercial stakeholders and more to deliver great experiences. You'll be an integrated part of the end to end product development process, influencing for the customer at all stages.
You'll identify constraints with the projects, and work to overcome them. You'll seek out feedback from the team, your manager, and stakeholders to inform design direction. You'll contribute to project and team meetings, and you'll showcase and discuss your work often.
You'll attend recruiting events and help the team assess new candidates in our hiring processes. You'll receive coaching in technical and behavioural skills, and develop your own coaching skills. You'll run basic research sessions if needed, with support from the UX Research team.
What you bring
You're strong and capable in standard product design processes. You have a depth of technical understanding of design, and the maturity to identify appropriate methods for each project.
You've contributed to some shipped projects and can demonstrate the relevant design skills and collaboration within those projects.
You'll be comfortable working with design systems and have experience creating new components and writing documentation.
You have a good understanding of visual hierarchy, layout and information architecture. You're comfortable using a design system, and building on previous work in a product. You consider the wider user experience in your work and know how to gain a strong understanding of the vision and key measure of success for your projects. You have some working knowledge of user research process and methodologies.
You clearly communicate direction rationale to peers and wider teams.
What to include in your application
Your resume and any extra info that's relevant

At least one case study of a real world project. A portfolio with multiple case studies is better.  Demonstrate your UX, UI, product thinking, process, and communication skills. You can read a blog post about we look for in a case study. If you can't share a case study with us, please let us know why so we can work something out.

Any online profiles like Dribbble, Behance, Codepen, or others that you think we should see.
What you'll get
Beyond working with such a great team? We're serious about career development at FanDuel. Your manager will help you set development goals and use our designer-specific career framework to grow over time, whether you see your future as an individual contributor or a people manager.  All our managers have a focus on continuous development and a drive to help you reach your potential, with in-house training and a development budget.
An open and collaborative team who value and respect each other
10% time, hackathons, conferences and a manager committed to your career development
A healthy work/life balance through flexible working and untracked holidays
Pension, life insurance and other financial incentives
Private health cover and employee assistance program
There's more, but we don't want to go on and on...
FanDuel Group is an equal opportunities employer. Diversity and inclusion in FanDuel means that we respect and value everyone as individuals. We don't tolerate bias, judgement or harassment.  Our focus is on developing employees so that they reach their full potential.
Apply for this job