Senior Product Designer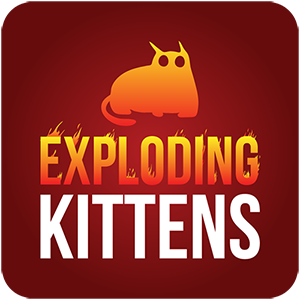 Exploding Kittens
Exploding Kittens is a leading game and entertainment company with a mission to inspire people to connect, laugh, and play fun games in the physical world. After initially seeking to raise $10k through Kickstarter, Exploding Kittens' campaign raised $8.7M in 30 days from 219,000 backers. To date, Exploding Kittens is the #1 most-backed project in Kickstarter history and the company has sold over 11 million games.
Started by former Xbox game designer Elan Lee and The Oatmeal's founder Matt Inman, Exploding Kittens and its family of games recreates game night for a humorous and fun person-to-person experience. Today, there are seven games available for purchase: Exploding Kittens, Bears vs Babies, You've Got Crabs, Throw Throw Burrito, Throw Throw Burrito: Extreme, On a Scale of One to T-Rex, and Poetry for Neanderthals, as well as an Exploding Kittens mobile app that is one of the top 30 premium games on both iOS and Android.
Exploding Kittens is seeking to
hire
an experienced Senior Product Designer, to be the first member of a new product team focused on building a new digital consumer experience for tabletop games with powerful tools and community features for game designers to bring their ideas to life. Your work will have a direct and immediate impact in the world of game discovery and publishing. 
This role will start with hands-on visual design closely collaborating with our product and engineering leads. As our needs expand, you'll be
hiring
, managing and mentoring a UX/UI team. You will be expected to substantially shape the role of
UX/UI design
in the product team, and have a lasting impact on our business and methods for developing products and culture. 
Our ideal candidate has at least six years of hands-on UX design experience and is seeking the opportunity to work on new product development in a vibrant, established company that is growing and scaling. In this role you will own and have hands-on responsibility over the user experience of our products, and will be hiring and developing the team around it.
WHAT YOU'LL BRING:
A demonstrated track record designing digital products  that have been used by thousands of customers.
An absolute focus on customers and user experience.
A strong ambition to build a new platform from the ground up in pursuit of a significant market opportunity.
A friendly-team player with a positive attitude, passion for games & entertainment who can take and give feedback (no egos).
Exceptional analytical, organizational, verbal and written communication skills.
HOW YOU'LL CONTRIBUTE:
Work with UX researchers, our Senior Director of Product and engineering team to build new features, iterate and perfect interactions, and ensure a validated experience ships. 
Create highly effective user-focused experiences and interfaces across a variety of environments (mobile, web apps, dashboards, etc.)
Clearly articulate design decisions to your collaborators and stakeholders. 
Develop a culture of thoughtful design critique as part of our product workflow.
Identify user research opportunities (both qualitative and quantitative) to help support product decisions and work closely with UX Researchers.
Work closely with our engineers to ensure a high-quality implementation and user experience. You will often sit side by side with engineering to create prototypes and iterate on a daily basis.
 Manage multiple projects simultaneously.




The scope of the job may change as necessitated by business demands.



WHAT WE NEED:
6-years of experience that includes experience design, interaction design, and development of design systems systems.
2-years of experience as a UX/UI lead within a larger platform.
An impressive portfolio that shows breadth of experience and a distinct voice. 
Deep understanding of the product development process, from definition, to functional interaction and detailed visual design.
Experience iterating from low-fidelity sketches and workflows to beautiful high-fidelity designs.
Experience with A/B testing & direct user feedback (user testing, focus groups, etc.)
A successful track record of quickly translating research insights into UX prototypes.
Design experience in a marketplace or community SaaS product.
The ability to partner and communicate effectively.
Proficiency with Figma, Sketch, Photoshop, Illustrator, and other design and prototyping tools.
A personal sense of pride in elegant product design.
Mastery of at least one of the following design programs: Figma, Sketch, or Adobe XD. 
Mastery of at least one of the following prototyping tools: Adobe XD, InVision, Figma, Axure, Framer, Principle. 
WHAT WE OFFER:
Company paid medical, dental, and vision benefits for you and your family
Flexible spending account options (medical, dependent care, transit)
401k with company matching
Flexible paid vacation
Monthly wellness benefit + complementary wellness subscriptions
Complimentary lunches on Fridays (where we play games together!)
Apply for this job