Product Designer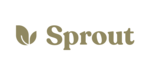 Sprout Therapy
Who We Are at Sprout Therapy:
Sprout Therapy is a tech-forward provider of pediatric autism therapy across the United States. We believe that families, clinicians, and insurers all deserve a better healthcare experience, so we built one.
Backed by over $96mm from leading investors in healthcare technology, including General Catalyst, Founders Fund, SignalFire, e.ventures, 8VC, Felicis Ventures, Sound Ventures, and Bling Capital, our mission is to provide personalized, technology-empowered care for children with autism in the environment best suited to help them grow and thrive — the home. 
We're looking to rapidly grow our team with values-driven, diverse, and caring professionals to help us improve autism care. 
About the Role: 
As a UX/UI Designer, you will work directly with cross-functional partners to develop products and features. You will be responsible for leading quality execution and UX process through the entire product design life cycle, from involvement in insight gathering, sketches, and conceptual wireframing to high fidelity designs and working with engineers to deliver quality launches. You will mentor other designers and lead efforts across all aspects of design: visual, user experience, product, and interaction. 
What You'll Do:
Own all product aspects of UX design from initial concept to released product

Be the product advocate for the user and creating insight driven user experiences

Think holistically about the user journey and product ecosystem

Work with UX researchers to conduct user tests and research strategy, and develop a deep understanding of consumer's mindsets, attitudes, & behaviors and use that feedback to push for refinement/improvement

Collaborate daily with Designers, Product, Business, Engineers, and Stakeholders to understand complex scenarios and create solutions that are elegant, easy to use, accessible, innovative, engaging, and visually striking

Solve complex business problems and communicate them through wireframes, high fidelity mockups, specification documents, and testable prototypes for both desktop and mobile platforms

Design with expert knowledge and understanding of browser limitations, device capabilities, product usability and function

Work closely with developers to ensure designs are built to specifications
What You'll Need:
Bachelor's degree in Design (e.g., user interaction, graphic, visual communications, product)

5+ years of experience in UX or product design

Experience designing outstanding web-based products for editorial or consumer-oriented website

Proficient with industry standard design tools (e.g. Photoshop, Illustrator, Sketch)

Experience with HTML, CSS (and its various supersets) or Javascript

Ability to own design from whiteboard sketches to final concepts

Strong team player who is comfortable working in a fast-paced environment and across multiple teams

Ability to design and prototype UI for mobile platforms (iOS or Android)

Experience with user testing, A/B testing, and design-thinking methodologies
About Sprout
In addition to our clinicians and supporting departments, our company is built around four cross functional teams (spanning operations, product, marketing, business development, etc.):
Demand

- Deliver top notch products and services to our growing number of families. You'll work with families to understand pain points and optimize the patient journey from first contact to start of care to offboarding.

Supply

- Own and manage the relationship with our clinical practitioners. You are responsible for the growth of our clinician ecosystem by attracting, recruiting, and retaining high quality autism care providers. 

Platform

- Build tools and provide services to optimize and improve the delivery of clinical care. You'll help match the right provider with the right family, coordinate clinical care, and develop digital therapeutics products.

Quality

-

Improve the quality of care delivered to our families. You'll ensure that we provide strong clinical outcomes, develop training platforms to level up our providers, and maintain compliance with a variety of payor and regulatory requirements.
At Sprout, we are a globally distributed team with many of our team members located throughout the world, including in the following cities: San Francisco, New York, Los Angeles, Miami, Toronto, Montreal, and Kyiv. While everyone currently works remotely, we envision a future that balances face to face collaboration with a remote friendly environment.
What We Believe:
Families first, everything else second:

We put our families first, always. No decision is made at Sprout without considering the value it would bring to our families.

Think and act like an owner:

We think of ourselves as not just employees but part owners. We understand that when Sprout thrives, we all thrive.

Candor and respect:

We can't achieve greatness without ever disagreeing. We need to have healthy debates to ensure that we're making the right decisions.

Never settle for less: We don't settle for anything less than excellence. We're relentlessly committed to delivering the best care to our patients and always strive to do better by them.
The above job description is meant to describe the general nature and level of work being performed; it is not intended to be construed as an exhaustive list of all responsibilities, duties, and skills required for the position.
Sprout Therapy is an equal opportunity employer that is committed to providing all employees with a work environment free of discrimination and harassment. We celebrate diversity and welcome applicants from every background and life experience. 
Apply for this job