UX Writer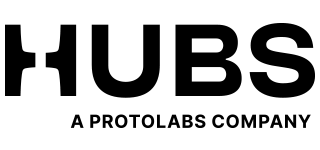 Hubs
Hubbers are doers, makers, hackers, and believers.
At Hubs, we empower engineers to create revolutionary products. Manufacturing is notoriously challenging for companies big and small. We're changing that by making reliable manufacturing methods instantly available to engineers all over the world through our online platform.
If you're looking for a tech scale-up there are a few to choose from, but none can boast the same growth trajectory as Hubs. Over the past 8 years, we've built the world's largest 3D printing network and pivoted to become the world's easiest-to-use custom manufacturer. We help the companies you know and love to build a better future, from humble startups to big names like Audi, HP, and NASA. Some parts we've produced are floating in space right now.
Design is an essential part of the Hubs culture. We believe that it is one of the key elements that sets us apart from the competition. We aim to build a user experience that turns our customers into engineering superheroes. As our
UX WRITER
, you will lay the groundwork of our content strategy. You will collaborate closely with a bunch of passionate designers to shape engaging interactions and build trust with our engineer customers.
Sound like you? Hit apply below!
What you'll do:
Work closely with your design team and other product owners to define, write, test, iterate product features across our platform.
Establish a baseline for content strategy. Develop a content design perspective throughout the platform in order to build a consistent dialog with our users in alignment with their needs.
Iterate as much as needed on the existing product to align the content of new and existing features.
Fully own research and copy testing (we are working with Phraseapp).
Create, maintain and evolve voice and tone guidelines.
Be the voice of our engineer customers: help them feel understood and empowered through a seamless, user-centred experience.
What it takes:
Strong writing and editing skills - being a fluent english speaker is a requirement.
2+ years' experience writing and designing content for web or mobile services in the UK and US markets.
Knowledge of UX design principles and interaction patterns.
Familiar with content tooling and/or front-end programming.
Excellent communication and collaboration skills.
Ability to work independently in a fast-paced environment.
Familiarity with the manufacturing industry is a plus.
Why Hubs?
Opportunity to make an impact from day one in a high-paced culture and accelerate our growth as we scale!
We offer a competitive salary plus a bonus incentive and Protolabs stock options
Annual company-wide team trip planned for October 2021 - let's go!
Everyone's a student and teacher with our LinkedIn learning platform, Tech hub, hackathons, innovation sprints, and global employee career development plan
You'll join a diverse, international team of 140+ people from (30+ nationalities) growing to 200+ in the next 12-18 months
Awesome office location close to the West Loop in Chicago (team of 15+)
Makers space with access to equipment, resources, and training through the mHUB Innovation Centre
Free access to Headspace meditation app and Mental-Health Coach
Stay fit and sign up to ClassPass and join colleagues who run, climb, cross fit
We offer generous health insurance benefits including dental + vision and you'll get 24 PTO days per year
Learn more about us on our Office Instagram and Careers page
Our recruitment process
Our recruiter will have a quick chat to make sure the role is what you think it is, learns more about you and your career ambitions, and cover our interview process and next step
Then we'll schedule a chat with one of our designers to learn more about how we do things
After that, we'll have an assignment to cover your design skills. The assessment involves a take-home assignment which later will be discussed together with the manager and some other team members
Finally, you'll have a short talk with one of our cultural ambassadors at Hubs!
Be yourself
We are an equal opportunity employer and we are committed to building a diverse team that feels that they are valued in the workplace. If you're looking at our page and you do not identify yourself, don't be discouraged to apply. You can help make our company even better. We do not discriminate on the basis of race, colour, national origin, sexual orientation, age, mental or physical ability, or any which way you represent yourself. We strongly believe diversity makes for more successful teams.
About Hubs
Hubs
 (formerly 3D Hubs) is an online platform for custom part manufacturing, providing access to a global network of manufacturing services, including 
CNC machining
, 
3D printing
, 
injection molding
, and 
sheet metal fabrication. 
Founded in Amsterdam in 2013, Hubs has since produced 7 million parts and was acquired for $280M by Protolabs in January 2021. Hubs continues to operate as an independent company aimed at further unlocking the massive distributed manufacturing opportunity together with Protolabs.
Apply for this job