UX Researcher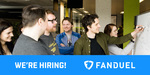 FanDuel
FanDuel Group is a world-class team of brands and products that deliver sports betting, gaming and entertainment to millions of US sports fans, every day. That's no easy task, and wouldn't be possible without a fantastic team who have helped us pioneer new products and innovative features that make us a leader in the industry. Whether you're looking for better career progression, improved financial security or just a better sense of belonging we believe we've created a culture in which everyone can succeed, no matter how you got here.
We're looking for a UX Research to join our UX & Design team in Scotland working on our Account and Wallet product building upon the existing experiences that our customers love, maintaining our best-in-class status.
Everyone on our team has a part to play
You'll be part of the team working to build all-important trust with customers in the most important areas: sharing their details and managing their money. In this role, you'll be working with product designers and UX writers to solve complex problems and deliver delightful and simple user experiences.

You'll use qualitative & quantitative research techniques to understand our users, champion them by being their voice within the company working with teams across the organisation to share insights and enable us to create engaging user experiences. You'll work on the important here-and-now projects being delivered, as well as some exciting future thinking projects.
You'll work on projects with a lot of self-direction, or lead smaller projects. You'll take on these projects with guidance and help, and be responsible for the research outcomes. The UX & Design team collaborate with product managers, engineers, commercial stakeholders and more to deliver great experiences so you'll be an integrated part of the end to end product development process, influencing for the customer at all stages.

You'll identify constraints with the projects, and work to overcome them. You'll seek out feedback from the team, your manager, and stakeholders to inform research direction. You'll contribute to project and team meetings, and you'll showcase and discuss your work often.

The UX & Design team collaborate with product managers, engineers, commercial stakeholders and more to deliver great experiences so you'll be an important facilitator, engaging cross-functional teams, exploring new practices and contributing to defining team practices. 

As part of the UX Research team you'll help promote UX & Design at FanDuel externally and participate in the hiring and onboarding new team members.
What we're looking for in our next teammate
You will have deep knowledge UX research methods and techniques and have experience deploying the right process for the right occasion. 

Ability to identify areas of improvement across a product, and make recommendations for potential directions towards a solution.

Experience working with related disciplines, where necessary, to add more data to the research e.g. quantitative product data analysis or marketing insights.

You make research digestible for all types of stakeholders and can clearly communicate the value of research at various stages in the product development life cycle.

You have the ability to moderate research sessions effectively. 

A keen storyteller who can influence and communicate effectively within wider teams of varying stakeholders.
What to include in your application
At least one case study of a real world project.

We want to see how you tackle a digital product/UX research problem and turn insights into actions

.

If you have

a portfolio with multiple case studies is better.  Demonstrate your qualitative research skills, product thinking, process, and communication skills.

 

If you can't share a case study with us, please let us know and we'll work something out.

Any online profiles like Dribbble, Behance, Codepen, or others that you think we should see.
What you'll get
Beyond working with such a great team? We're serious about career development at FanDuel. Your manager will help you set development goals and use our designer-specific career framework to grow over time, whether you see your future as an individual contributor or a people manager.  All our managers have a focus on continuous development and a drive to help you reach your potential, with in-house training and a development budget.
Inclusive and collaborative colleagues who value and respect each other.
An autonomous environment where you are empowered to make decisions in an environment where it's safe to get it wrong every once in a while.
Hall of fame benefits including programs that allow you to share in our success.
Flexible working and holidays to let you refuel as and when it suits you.
FanDuel Group is an equal opportunities employer. Diversity and inclusion in FanDuel means that we respect and value everyone as individuals. We don't tolerate bias, judgement or harassment.  Our focus is on developing employees so that they reach their full potential.
Apply for this job